Established in 1963, this family business specialises in the full restoration of inglenook fireplaces, throughout the UK.
Many major projects have been undertaken and often where very little of the original fireplace remains, a detailed investigation has revealed enough evidence to enable us to re-create the fireplace to its original splendor, to the immense satisfaction of both client and restorer.
We use lime mortars and carefully selected reclaimed bricks, stone and timber beams to ensure full authenticity in our restoration work. The fascination of our work is, that whilst many inglenooks will appear to look alike, each one is in fact unique, although it is quite common for similar trends to be found in the styles of original fireplaces for a given geographical location.
Our expertise, which has developed over the years therefore enables us to choose materials which are not only as close-a-match-as-possible to those used in the original construction, but which are also characteristic of the area. Our work is all Conservationist approved and indeed many of our projects are Conservationist-recommended.
We also investigate smoking problems and if necessary can supply and fit black steel canopies. We supply all the usual accessories for inglenook fireplaces, if required, e.g. fire-backs and fire-baskets with matching "dogs".

"We re-create the fireplace to its original splendor"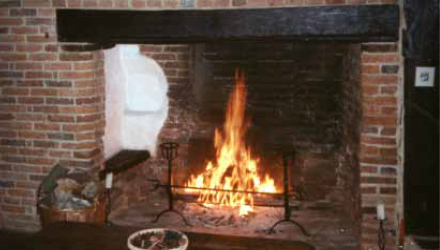 " We ensure full authenticity in our restoration work."